Autumn 2022 dig announced.
CLASP will be undertaking a dig at the extramural area of the Roman posting station at Bannaventa  from Thursday 25th to  Wednesday 31st of August 2022. for (slightly) more information and to apply please visit the digs listing page. 

---

April 2022 100 club draw
Congratulations to Jackie Pyle, April's luck winner!
---
March 2022 winner.
The winner of the March draw was Helen Stamp. Congratulations Helen!
---
Post Roman and Early Anglo Saxon Cemetery Nether Heyford
CLASP has been involved over several years carrying out field walking and excavations at this site, most recently in 2021.  A review of the excavations, the findings and possible interpretations can be accessed here.
---
Chairman's Update Oct 2021.
The 2021 AGM was held on 20th October with 24 members attending and about the same number sending in apologies. My thanks for everyone that provided help. The draft minutes of the meeting are now on the Website in the member's area.
I took attendees through the accounts, explaining that income and expenditure can be grouped into three categories – 1). Donations from members and regular expenses such as Insurance and website costs; 2) the net cost of digs and 3) the cost of rent and other expenditure for the Field Centre less the contribution from the 100 Club and any fund raising. The financial position was strong in 2020-21 because of two exceptional items.
Members agreed a recommendation from Trustees to allow 16 and 17 year-olds to become members providing they were accompanied at all times by a parent and guardian.
All Trustees stood for re-election and were unanimously reappointed. We could though do with a few more please.
Rob Close
---
CLASP memorial lectures 2021
The 2021 CLASP memorial lectures series was a great success, and very well attended. Our thanks to all those who gave their time. If you missed any of the talks and would like to catch up, or would like to view any again, please visit the Vimeo showcase.
---
---
CLASP brings local archaeology enthusiasts together to investigate their local past.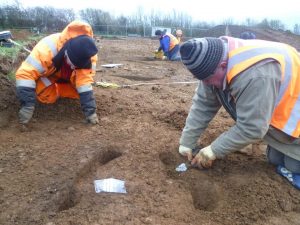 Our members, all volunteers, are technically led by our professionally qualified Archaeological Director, himself a volunteer. Members are encouraged and enabled to learn skills for themselves, both formally and 'in the field', to become confident and self-sufficient in all aspects of archaeological investigation.
CLASP also provides talks and lectures as part of its commitment to encouraging local communities to 'own' their archaeological heritage.

You can find out more about CLASP by excavating this website using the links at the top of the page.
News 

and new website features

are signalled as "Posts" which you see listed in the column on the right.
---
REPORTS

The Reports & Submissions section of this website includes:
CLASP case-studies
CLASP reports on projects and activities
CLASP geophysical survey reports
CLASP technical guidance documents
CLASP submissions to planning enquiries
---
To enter the Members' Area, or to read "Protected" posts, you will need to be a CLASP Individual Member, and to use the password shown on your current CLASP membership card.
---