100 Club draw
The winner of the draw for October is Nikki Bacchus and the winner for November is Ruth Downie.
---
2023 AGM
Draft minutes for the CLASP 2023 AGM are now available in the members section.
---
CLASP 2023 Annual General Meeting
A time and date for the CLASP 2023 AGM has been agreed.
The meeting will be held at 19.00 on Wednesday, October 25th at Harpole Bowling Club, Harpole.
The AGM will be followed by a short break and then a presentation by Steve Young, CLASP Archaeological Director, on the 2023 Fieldwork. Agenda for the AGM.
Agenda for the CLASP 2023 Annual General Meeting
Welcome by the Chairman and noting of any Apologies.
Agreement of the Minutes of the AGM held on 26/10/2022.
Chairman's Report.
Presentation of the 2022/23 Financial Accounts for Acceptance.
Confirmation of Trustees.
 A.O.B
Trustees: Rob Close OBE (Chair), Angela Evans (Treasurer), Stephen Young (Archaeology Director), Jim Aveling, Marcus Lewis, Salma Pervez, Norman Garnett, Steve Bacon, Rosemary Daniel. Secretary: Eve Bacon
CLASP is very grateful for generous donations from Heritage and Archaeological bodies, local government, Trusts and individuals. For details of the sponsors please visit see out website http://claspweb.org.uk/
A pdf copy of this calling notice with full minutes of the 26/10/2022 AGM is available via the AGM section of the members area.
---
Summer 2023 newsletter.
CLASP's latest newsletter is now available for your perusal.
---
2023 Lecture Series videos available
All the lectures from the 2023 lecture series are available (nore to be added as the series progresses) at the CLASP video site.
---
Chairman's Update April 2023
The latest update from the CLASP Chairman is now available.
---
---
CLASP brings local archaeology enthusiasts together to investigate their local past.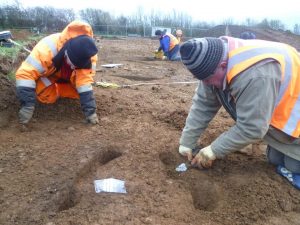 Our members, all volunteers, are technically led by our professionally qualified Archaeological Director, himself a volunteer. Members are encouraged and enabled to learn skills for themselves, both formally and 'in the field', to become confident and self-sufficient in all aspects of archaeological investigation.
CLASP also provides talks and lectures as part of its commitment to encouraging local communities to 'own' their archaeological heritage.

You can find out more about CLASP by excavating this website using the links at the top of the page.
News 

and new website features

are signalled as "Posts" which you see listed in the column on the right.
---
REPORTS

The Reports & Submissions section of this website includes:
CLASP case-studies
CLASP reports on projects and activities
CLASP geophysical survey reports
CLASP technical guidance documents
CLASP submissions to planning enquiries
---
To enter the Members' Area, or to read "Protected" posts, you will need to be a CLASP Individual Member, and to use the password shown on your current CLASP membership card.
---