New Chair and Trustees appointed
Dear Member,
The Special General Meeting was held this morning (14th December 2020) and it was agreed I should become Chairman of Trustees. I will combine this role with Chairman of the Organising Committee until either the next AGM or until anyone volunteers to take the latter role on!
It is pleasing to know that we have gained in the last five new, well-committed Trustees – Norman Garnett, Rosemary Daniel, Steve Bacon, Nichola Bacchus and myself. The Trustees have agreed four areas of focus – sorting out the new home for the Field Centre, Fund Raising, Re-engagement of some of our Affiliate Societies and ensuring that future fieldwork projects are economically viable. If any Member is interested in helping with any of these please let me know.
The farm where the Field Centre is located is now on the market. Hence we have to be prepared for being given three month's notice to leave. With this in mind, we have submitted a Planning Application to locate a portacabin next to Nether Heyford Youth Club. CLASP's computers and some of the storage racks would be inside the portacabin and we would use the Youth Club with all its facilities for processing archives and meetings. We should hear in 2 months whether planning approval will be given.
The capital and implementation costs could amount to £8500. We cannot fund the majority of this from existing resources and hence the importance of Fund raising. The good news is that Dave Hayward has already secured £2500 and that Nicki, a new Trustee, has good experience in fund raising and can make some time available to focus on this.
We will keep everyone informed of progress.
Rob Close
---
100 Club winners notification
Lottery winners for October, November and December have been drawn from the hat. Many congratulations to Tony Kesten (October), Mrs. J. Pyle (November) and Rachel Wilkinson (December)!
---
Notification of Special General Meeting
The Trustees are needing to call a Special General Meeting of members for the appointing of new Trustees who have the skills and commitment to help. This meeting has been scheduled for Monday 14th December at 11.00. Further information, including meeting URL and agenda.
---
Autumn 2020 newsletter available.
The Autumn CLASP Newsletter has now been published. Features include an update from the Organising Committee Chairman, notice of the AGM on 21st October (by Zoom), an Archaeological Report from Steve Young on the Fieldwalking in September and a number of interesting reports and articles by Members.
---
---
CLASP brings local archaeology enthusiasts together to investigate their local past.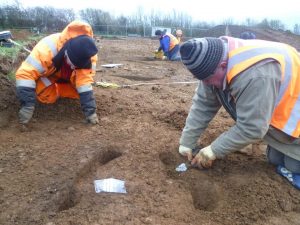 Our members, all volunteers, are technically led by our professionally qualified Archaeological Director, himself a volunteer. Members are encouraged and enabled to learn skills for themselves, both formally and 'in the field', to become confident and self-sufficient in all aspects of archaeological investigation.
CLASP also provides talks and lectures as part of its commitment to encouraging local communities to 'own' their archaeological heritage.

You can find out more about CLASP by excavating this website using the links at the top of the page.
News 

and new website features

are signalled as "Posts" which you see listed in the column on the right.
---
REPORTS

The Reports & Submissions section of this website includes:
CLASP case-studies
CLASP reports on projects and activities
CLASP geophysical survey reports
CLASP technical guidance documents
CLASP submissions to planning enquiries
---
To enter the Members' Area, or to read "Protected" posts, you will need to be a CLASP Individual Member, and to use the password shown on your current CLASP membership card.
---

VIDEO
CLASP Conference 2016 online
Watch the videos of the proceedings (on Vimeo): nine talks plus the welcome and panel discussion.
PRESS COVERAGE
Archaeology – Back To Our Roots
This illustrated account of the Whitehall Farm Roman Villa excavation was published in the spring 2018 edition of Gridline, a publication for National Grid's grantors and landowners.
---