Chairman's Update.
September Excavation: A very successful excavation has just ended at the Anglo-Saxon Cemetery. Five skeletons were found. There was a great team atmosphere with experienced and new persons working together, under good supervision. Particular thanks to Steve, Tony H, Sandra, Norman and Colin and also to new member Dale Munn, who started the first day off with a seminar on how to identify the age and sex of skeletons. Steve will of course give his interpretation of the findings on 20th October after the AGM.
October AGM: This is taking place at Harpole Bowling Club at 1900 on Wednesday 20th October, followed by Steve's presentation. Papers for the AGM will go out in early October. please try and attend. We will investigate providing the ability to attend by Zoom for those that are still isolating.
Norton Juxta Daventry: Marcus Lewis, CLASP Trustee, has written a comprehensive history of Norton and he covers a number of our archaeological sites ( e.g. Bannaventa and Thrupp). This is an interesting read for those of our members that want to understand our patch better. Marcus has very kindly donated 5 copies to CLASP to sell at £15 a copy. Steve and Rob have purchased one each so 3 are still available. Please contact Steve. If not sold before, they will be brought along to the AGM. Beyond that, Marcus has additional copies to sell.
Rob Close
Chairman
---
News update July 2021
Note from the Chairman
There have been recent meetings over Zoom of both the Trustees and Organising Committee. The key items discussed were:
The dig at the Anglo-Saxon cemetery September 13th to 20th.

Many of us are looking forward to getting back to fieldwork. The September dig will proceed unless there is a deterioration in COVID circumstances. A booking form will be put on the website by end July and will be emailed out too. All attendees must pre-book and pay the attendance fee of £10 for one day or £20 for two or more. We hope to be starting the CLASP Archaeology Passport Scheme and a separate note will be issued explaining this. A small group will meet before the end of August to review what COVID related requirements will need to be in place. All attendees will be expected to adhere to these.

 CLASP Field Centre

The sale of the Farm has fallen through, and the farm is back on the market. This reintroduces uncertainty as to whether we will be allowed to stay longer term. Trustees will continue to develop contingency plans for if we are not. Trustees visited the Northants Archaeology Resource Centre at Chester Farm and were impressed with the facilities there. If necessary, our artefacts could be moved to the Centre.

CLASP AGM

Trustees have agreed that the 2021 AGM will, again subject to any COVID circumstances, be held at Harpole at 1900 on Wednesday 20th October. Presentations will include the September dig and the Field Centre.

CLASP Website

There is ongoing work to enhance the Website including the review of links and hopefully putting more information about the Anglo-Saxon cemetery (what we have done and what we hope to achieve) ahead of the dig. All ideas to enhance the Website are welcomed.
Rob Close
---
Latest 100 Club winners notification
Many congratulations to Norman Garnett, winner for September 2021, Salma Pervez, August's winner and  John Baxter, winner of the June 2021 100 club draw!
---
Spring 2021 newsletter released
The CLASP newsletter for Spring 2021 is now available in the usual location.
---
CLASP memorial lectures 2021
The 2021 CLASP memorial lectures series was a great success, and very well attended. Our thanks to all those who gave their time. If you missed any of the talks and would like to catch up, or would like to view any again, please visit the Vimeo showcase.
---
---
CLASP brings local archaeology enthusiasts together to investigate their local past.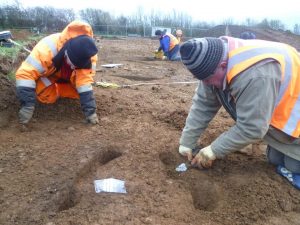 Our members, all volunteers, are technically led by our professionally qualified Archaeological Director, himself a volunteer. Members are encouraged and enabled to learn skills for themselves, both formally and 'in the field', to become confident and self-sufficient in all aspects of archaeological investigation.
CLASP also provides talks and lectures as part of its commitment to encouraging local communities to 'own' their archaeological heritage.

You can find out more about CLASP by excavating this website using the links at the top of the page.
News 

and new website features

are signalled as "Posts" which you see listed in the column on the right.
---
REPORTS

The Reports & Submissions section of this website includes:
CLASP case-studies
CLASP reports on projects and activities
CLASP geophysical survey reports
CLASP technical guidance documents
CLASP submissions to planning enquiries
---
To enter the Members' Area, or to read "Protected" posts, you will need to be a CLASP Individual Member, and to use the password shown on your current CLASP membership card.
---

VIDEO
CLASP Conference 2016 online
Watch the videos of the proceedings (on Vimeo): nine talks plus the welcome and panel discussion.
PRESS COVERAGE
Archaeology – Back To Our Roots
This illustrated account of the Whitehall Farm Roman Villa excavation was published in the spring 2018 edition of Gridline, a publication for National Grid's grantors and landowners.
---