News update March 2021
The CLASP Trustees met on 1st March.
Dear Member,
A short note on some of the matters discussed.
    Digs at Bannaventa and the Anglo-Saxon cemetery are still proposed, one in August and one in September, COVID restrictions allowing. These will be confirmed hopefully in the next few weeks. It is intended that the Organising Committee will be asked to meet (by Zoom) by the end of April to flesh out the details.
    We have had a disappointment concerning our Planning Application at Nether Heyford, the requirement to incur the cost of creating an additional car parking place and also objections from local residents. Whilst there is always a possibility of being able to stay at the farm under new owners, we are also pursuing other potential options. On the good news front one member has extremely generously donated £1200 plus gift aid towards the cost of a Portacabin.
    Steve Y and Salma are working on organising a number of lectures over zoom over the coming months. more on this as soon as possible.
    The Newsletter is being delayed until the end of April to enable us to include information about the digs. Any member that wishes to contribute to the Newsletter should send to Tony Johns or myself.
Rob Close
---
100 Club winners notification.
The lottery winners for February and March 2021 have been declared. Many congratulations to Mr Dave Hayward for his February win and to Mr David O'Neil for March.
---
---
CLASP brings local archaeology enthusiasts together to investigate their local past.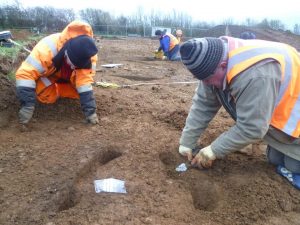 Our members, all volunteers, are technically led by our professionally qualified Archaeological Director, himself a volunteer. Members are encouraged and enabled to learn skills for themselves, both formally and 'in the field', to become confident and self-sufficient in all aspects of archaeological investigation.
CLASP also provides talks and lectures as part of its commitment to encouraging local communities to 'own' their archaeological heritage.

You can find out more about CLASP by excavating this website using the links at the top of the page.
News 

and new website features

are signalled as "Posts" which you see listed in the column on the right.
---
REPORTS

The Reports & Submissions section of this website includes:
CLASP case-studies
CLASP reports on projects and activities
CLASP geophysical survey reports
CLASP technical guidance documents
CLASP submissions to planning enquiries
---
To enter the Members' Area, or to read "Protected" posts, you will need to be a CLASP Individual Member, and to use the password shown on your current CLASP membership card.
---

VIDEO
CLASP Conference 2016 online
Watch the videos of the proceedings (on Vimeo): nine talks plus the welcome and panel discussion.
PRESS COVERAGE
Archaeology – Back To Our Roots
This illustrated account of the Whitehall Farm Roman Villa excavation was published in the spring 2018 edition of Gridline, a publication for National Grid's grantors and landowners.
---