CLASP newsletters added.
The first 2 issues of the CLASP newsletter have been digitized from the archives and uploaded to the site. Not exactly "hot off the press" but CLASP members may be interested in reading them to be reminded of or hear about the very early days of CLASP."
---
New premises required – a plea for help!

CLASP have been told by its landlord that, owing to their business situation, we must vacate our field centre within the next year! This has come as an extreme shock to us as it means that we could be 'homeless', accompanied by several tonnes of archaeological artefacts!

We are appealing for anybody who has available premises in an  area within 10 to 15 miles of Weedon to consider letting them to us. Ideally we would need a minimum of 100 sq metres with an electrical supply and access to a toilet. We could pay a small rental charge and as we are a registered charity there would be an exemption for business rates.  More information and contact details.
---
---
Trustees Required

CLASP urgently requires new people both from inside and outside of the charity to be appointed as Trustees.
Look here to find out more about the role.
---
CLASP brings local archaeology enthusiasts together to investigate their local past.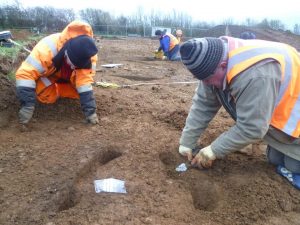 Our members, all volunteers, are technically led by our professionally qualified Archaeological Director, himself a volunteer. Members are encouraged and enabled to learn skills for themselves, both formally and 'in the field', to become confident and self-sufficient in all aspects of archaeological investigation.
CLASP also provides talks and lectures as part of its commitment to encouraging local communities to 'own' their archaeological heritage.

You can find out more about CLASP by excavating this website using the links at the top of the page.
News 

and new website features

are signalled as "Posts" which you see listed in the column on the right.
---
REPORTS

The Reports & Submissions section of this website includes:
CLASP case-studies
CLASP reports on projects and activities
CLASP geophysical survey reports
CLASP technical guidance documents
CLASP submissions to planning enquiries
---
To enter the Members' Area, or to read "Protected" posts, you will need to be a CLASP Individual Member, and to use the password shown on your current CLASP membership card.
---

VIDEO
CLASP Conference 2016 online
Watch the videos of the proceedings (on Vimeo): nine talks plus the welcome and panel discussion.
PRESS COVERAGE
Archaeology – Back To Our Roots
This illustrated account of the Whitehall Farm Roman Villa excavation was published in the spring 2018 edition of Gridline, a publication for National Grid's grantors and landowners.
---