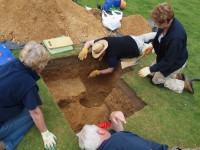 You can join CLASP as an Individual Member for one year for just £10. This will give you priority access to the various archaeological activities and to opportunities to develop practical skills. You will also receive a newsletter (by email if you so agree). Individual members over 18 years of age may vote at CLASP general meetings.
What do CLASP members actually do?
– fieldwalking: searching systematically for archaeological evidence on top of the soil;
– small-scale excavation: digging test pits and trenches;
– finds processing: identifying, cleaning, classifying and conserving finds;
– drawing detailed plans of test pits and trenches;
– making photographic records of excavations and finds;
– data-processing: recording 'contexts' and turning surveying and mapping information into charts – this can involve learning to use specialised computer programmes;
– assisting in publishing and disseminating findings.
– developing their practical skills.
Click here for a membership/donation form
Members of the participating organisations are automatically associate members of CLASP – they enjoy the benefits of Individual Membership of CLASP but may not vote at CLASP general meeting, and do not receive the CLASP Newsletter. Associate Members may become Individual Members by paying the appropriate subscription.
MAILING GROUP (for CLASP Individual Members only)
We have a Yahoo mailing group open to CLASP Individual Members only. All CLASP members with email addresses have been invited to join the mailing group. If you missed the invitation, you can apply to join by going to:
http://uk.groups.yahoo.com/group/claspweb/
DONATIONS
You may wish to make a donation to CLASP to help us in our work. CLASP needs funds to purchase the items needed for its rapidly expanding archive – for example, finds bags, archival quality boxes and storage racks, film and film processing. All donations in cash or kind will be gratefully accepted. Some organisations and individuals who have supported CLASP in this way are listed here.